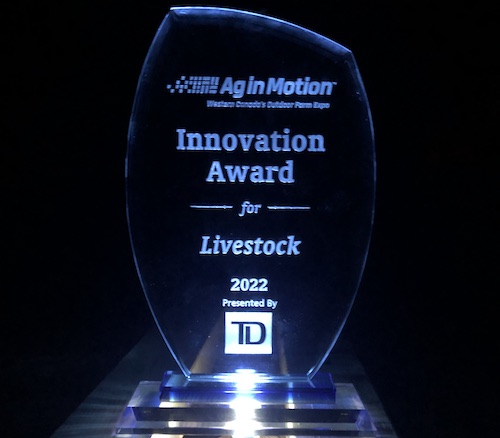 FarmSimple Wins 2022 Livestock Innovation Award
For Release:  FarmSimple has been awarded the 2022 Livestock Innovation Award at Ag in Motion™ for its submission of the Herd Hand Water Monitor.  Ag in Motion took place from July 19-22, 2022 in Langham, SK. FarmSimple was on location to showcase and demonstrate the Herd Hand Water Monitor in action.
The Herd Hand Water Monitor is a cellular connected device used to monitor livestock water sources including but not limited to remote solar troughs, pipeline systems, and gravity fed stock tanks. With the use of the Customer Dashboard, the Herd Hand Water Monitor sends text (SMS) alerts directly to a customers mobile phone in the event of low water or power loss scenario.
Water depletion threatens the health of livestock and, therefore, water sources must be inspected daily.  The fuel and labour costs associated with water inspection are higher than ever and the Herd Hand Water Monitor allows the producer to reduce trips to the field resulting in significant savings over a single grazing season. Use our calculator to see what you can save https://farmsimple.ca/calculator/
You can watch FarmSimple's video interview with RealAgriculture below:
https://www.realagriculture.com/2022/08/new-livestock-water-monitor-receives-innovation-award/